Model:  ARMORFLO 500HD- (Top coat)     HD-100 (Primer)
Hydrosil  Non-solvent Anti-corrosion Epoxy Floor Paint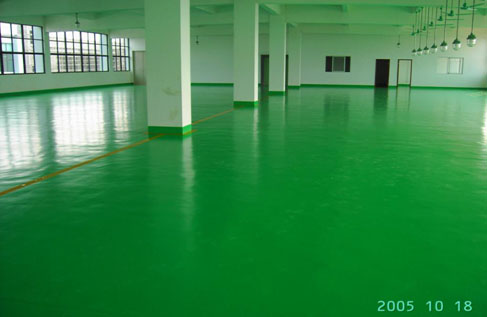 DESCRIPTION:
ARMORFLO -500 is two-component solvent-free anti-corrosion epoxy floor coatings. It has a great appearance, dust &corrosion resistance and easy to clean. The whole coating system can bond well with the solid base and has good abrasion and wearing resistance. It is also resistant to compression and impact. It is recommended for heavy duty industrial flooring
Coating Build Up System

ADVANTAGES:
 Excellent compressive strength.
Excellent flexural and tensile strengths
Seamless, dust-proof and easy to clean
 Solvent-free and environmental
Dense corrosion-resistance surface
 Bright &smooth surface
APPLICATION AREAS:
It is mainly used for concrete surface which has a need for compression & wearing resistance and anti-dust and corrosion requirement, such as factory floor, workshop, office, warehouse, food factory etc.
REQUIREMENT FOR SUBSTATE AND BASE:
1. Concrete substrate must not be less than 25MPA for optimum performance
The moisture content of the substrate should be less than 4%
APPLICATION INSTRUCTION:
Surface preparation: correct substrate preparation is critical for optimum performanc Surface should be sound, clean, dry and free from loose particles, oil, grease, and other contaminants.
 Primer: Prepare a barrel, pour ARMORFLO Primer A and B into the barrel based on 1:1. Stir the mixture well and then apply it with roller or trowel. The reference consumption is 0.15kg/㎡.
The main purpose of this primer is to seal the substrate completely and avoid air-bubbles in the body coat. A second coat may be required depending on the oil absorption condition of substrat The recoat time is about 8 hours.
 Undercoat: Mix ARMORFLO 200 A and ARMORFLO 200 B based on 5:1 first, then add quartz powder (1/2 of the mixture of A and B) into the mixture, stir it well and apply with trowel. The consumption quantity of A and B is 0.5kg / You can do it one coat at one time or two coats at two times. In the second case, the application interval is about 8 hours at 25 degrees. Sand the first layer, clean it and then apply the second layer. After the whole application, wait another 8 hours, grind it, clean the sanding dust and then continue the next procedure.
After completion of Undercoat application inspects to confirm that it is Non-sticky to hand, no softening, no nail print if you scratch the surfa
Top coat: Mix ARMORFLO 500HD A and B based on 5:1 and then apply the mixture with roller. The consumption quantity is 0.3kg/sqm.
Curing: 5-7 days. Don't put the floor into use or wash it with water or other chemicals within this period.
[mpc_button preset="mpc_preset_28″ url="url:http%3A%2F%2Farmorsil.com%2Fwp-content%2Fuploads%2F2016%2F03%2FARMORFLO-500HD.pdf||target:%20_blank" font_color="#ffffff" font_size="16″ font_transform="uppercase" title="Technical Datasheet for Armorflo 500HD" icon="fa fa-file-pdf-o" icon_color="#555555″ icon_size="45″ icon_effect="stay-left" icon_gap="20″ background_color="#75cdde" border_css="border-width:2px;border-color:#75cdde;border-style:solid;border-radius:0px;" padding_divider="true" padding_css="padding-top:12px;padding-right:30px;padding-bottom:12px;padding-left:30px;" margin_divider="true" margin_css="margin-top:11px;" hover_font_color="#df5461″ hover_background_color="#ffffff" hover_background_effect="expand-diagonal_left" hover_background_offset="99″]